Permanent makeup for your lips isn't a novel concept. Enhancing the color of your lips with a long-lasting pigment has been the dream of many for years. Never having to buy and wear lipstick again? What a dream!
So what is permanent lip liner exactly? Well, Permanent lip liner is simply put, a gentle form of tattoo that is placed on the lips in order to make lips look fuller, luscious, and more defined with more volume. It helps give your lips a pop of color. Imagine never having to worry about dry-looking lips, and color coming off when you eat, drink, sweat, or even kiss!
Will permanent lip liner hurt?
Our Lips are more sensitive than the tips of our fingers. Hence, some people may experience minor discomfort. When working with a professional, and experienced permanent makeup artist, any pain you feel should be rather minimal.
According to Brydie, a topical numbing cream is normally applied, so the most you will feel, is a light stippling sensation while the layers of color are being applied to your lips.
If you're worried about your pain tolerance, a pain reliever like Tylenol can be taken prior to the appointment. You should avoid aspirin and ibuprofen all together though since they can thin the blood which could lead to various issues.
What are the benefits of lip blushing?
The biggest advantage of lip tattooing is for those babes that have unevenness to their lip shape. This can also be improved with tattooing. Definition can also be added to the edge of your lips to help minimize the appearance of fines lines and wrinkles.
This will give you an amazing youthful look. As we mentioned before, your permanent lip color won't smudge after having a favorite cocktail, or coffee. It's great for so many reasons.
How long does permanent Lip Liner Last?
Generally, we expect lip makeup tattoos to last between two and five years. This can depend on the depth of the color, amount of color pigment used, and ensuring you've had a follow up after your initial appointment. So yes, permanent lips aren't actually permanent, there will be fading over time, and you will need to have touch-ups to maintain their peak look.
RELATED: How Long Does Lip Blushing Last?
How Much Does Permanent Lip Liner Cost?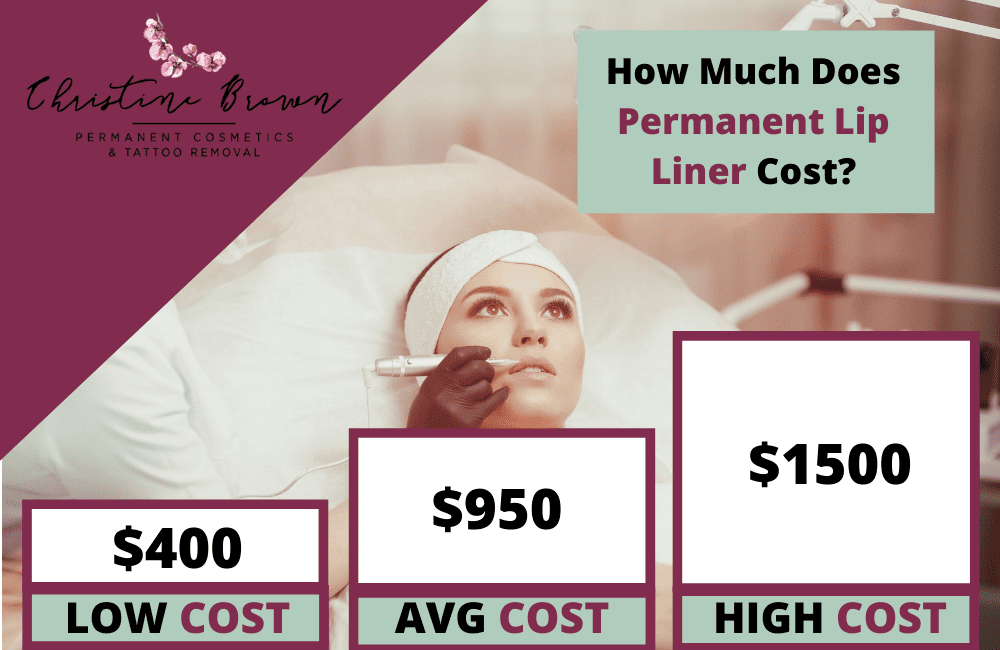 Lip blushing can cost anywhere between $400-$1500 per appointment, depending on where you live and the experience of the technician. Unlike traditional permanent cosmetic tattoos, lip blushing is an evolved service that's meant to provide natural-looking, long-lasting results. The more detailed the work is, ultimately, will lead to how much more expensive it becomes.
What Should I know before Getting my Lips Tattooed?
Before you decide on giving your lips a permanent makeup tattoo treatment, you'll undoubtedly want to know the details of what you might expect.
The Healing Process
Lip tattoos will generally take between three and twelve days to heal. This will depend on the size and scope of the treatment you received of course. Since it is such a simple and near painless experience, you will not need to take time off from work.
Can I Expect it to Fade Quickly?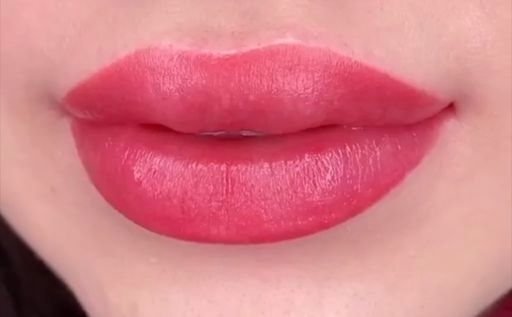 The color intensity will fade up to 40-60% after the first treatment, which is why we recommend a top-up around 6 weeks later.
Permanent Lip Liner is not a good fit for the following:
– You're under the age of 18 years.
– You currently have any infections.
– You have an autoimmune disorder or disease.
– You've had an organ transplant.
– You have problems with Dry Skin or Psoriasis.
– You've used acne treatments with Accutane.
– You have thyroid issues.
– You're pregnant.
– You're epileptic.
– You've experienced some severe heart problems (Like a Heart Attack).
– You're currently undergoing Chemotherapy.
RELATED: Is Lip Blushing Worth it?
What Should I Do After I Get Lip Blushing?
Permanent lip makeup aftercare is extremely important if you want to ensure there are no complications after the procedure is done. One of the most important things for any tattoo, is to try to avoid the sun for the first few days of the healing process.
We highly recommend you apply sunscreen on your lips if you are planning on catching some rays.
Most clients will experience swelling during the first day of healing. We suggest that you ice your lips for the first few days to help with the inflammation you may be dealing with.
Just like any tattoo, make sure you do not pick your lips! This can cause your color to fade, look out of place, but also can lead to infection.
One last bad piece of news, you will have to avoid kissing for up to a week! Our mouths can carry many forms of bacteria, so it's important in helping prevent infections.
Contact your Raleigh Permanent Lip Liner Experts Today!
Are you looking for permanent lip liner in Raleigh, NC? Look no further than the expert brow artist team at Permanent Cosmetics & Tattoo Removal by Christine Brown. Book your free consultation with us and learn if Lip Blushing is right for you!