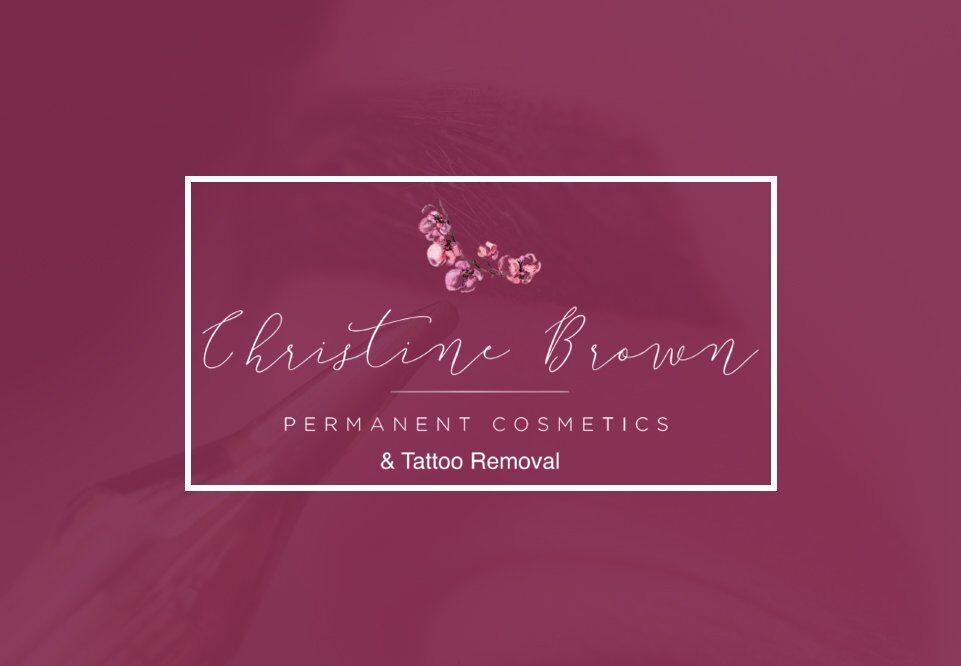 PARAMEDICAL TATTOOING IN RALEIGH, NC

Our mission is to assist you in restoring your confidence! When it pertains to scars, stretch marks, as well as other skin-related issues, we understand the emotional toll scars, stretch marks, and other skin-related disorders may take. At Permanent Cosmetics by Christine Brown in Raleigh, we'll design a treatment plan that's tailored to your specific needs and goals. We can work together to help you feel secure in your own skin by applying these incredible services!
WHAT IS PARAMEDICAL TATTOOING?
Medical micropigmentation, often known as medical tattooing, is a specialised process of implanting medical pigment into the skin.
Medical tattooing is a minimally invasive therapeutic method with numerous cosmetic uses.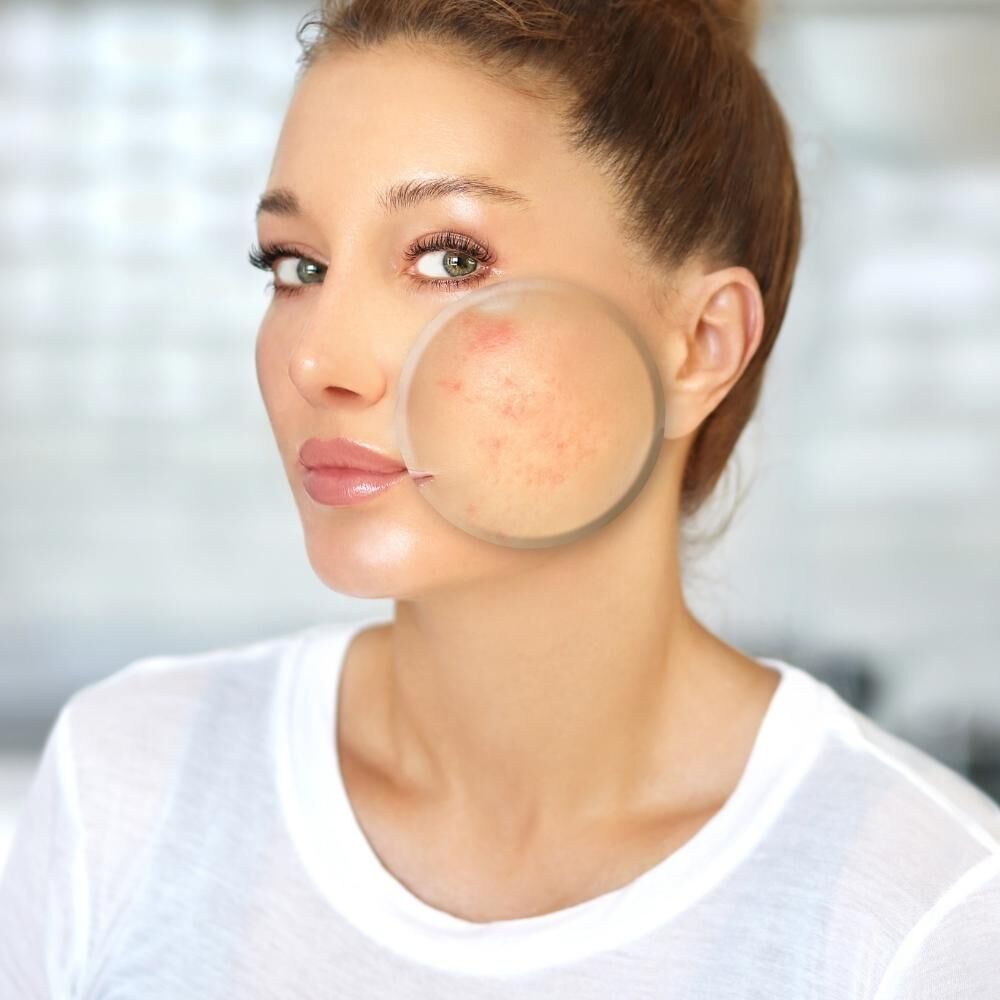 PARAMEDICAL MICROPIGMENTATION CAN HELP WITH

1. CONCEALING SKIN ABNORMALITIES

Many skin imperfections can be effectively concealed by mixing pigments to match your natural skin tone. Age spots , and pigmentation anomalies, especially those caused by vitiligo, are frequently medically tattooed.
2. STRETCH MARKS
Medical tattoo artists can substantially diminish the look of scars and stretch marks by meticulously matching and combining pigments. Color mixing is commonly used in conjunction with texture normalisation. Many stretch marks have purplish tones that orange pigment helps to balance out.
3. ACNE SCARS

Severe acne causes acne scars. These scars may be deep pits or maybe angular or wavelike in appearance. With Paramedical Tattooing, you can get the right acne scar treatment for your skin.
4. SURGERY AND BURN SCARS

If you suffer from surgery scars (C-Section as an example), or burn scars, paramedical tattooing treatments can help reduce the appearance, and help give you your confidence back.
OUR PARAMEDICAL MICROPIGMENTATION TRAINING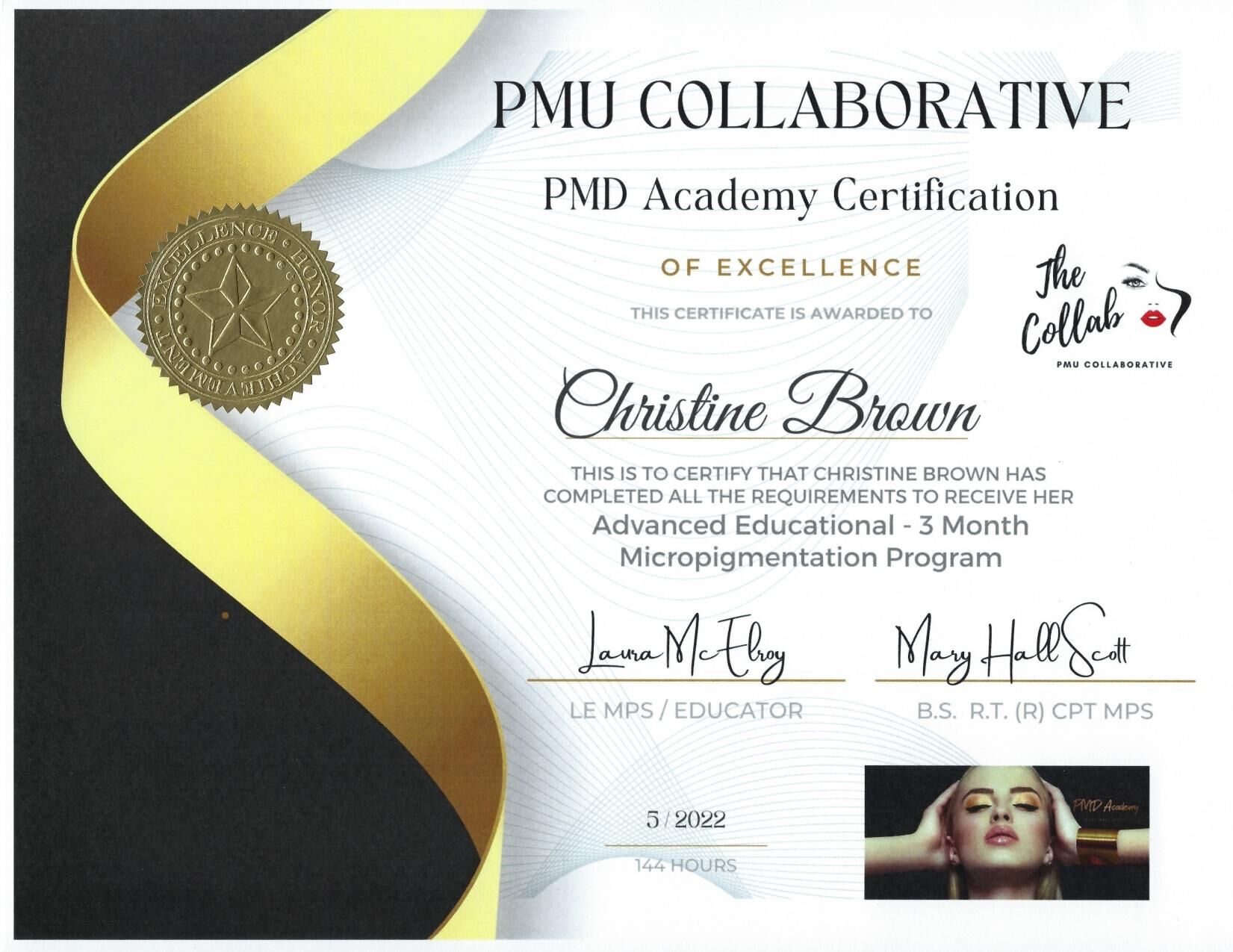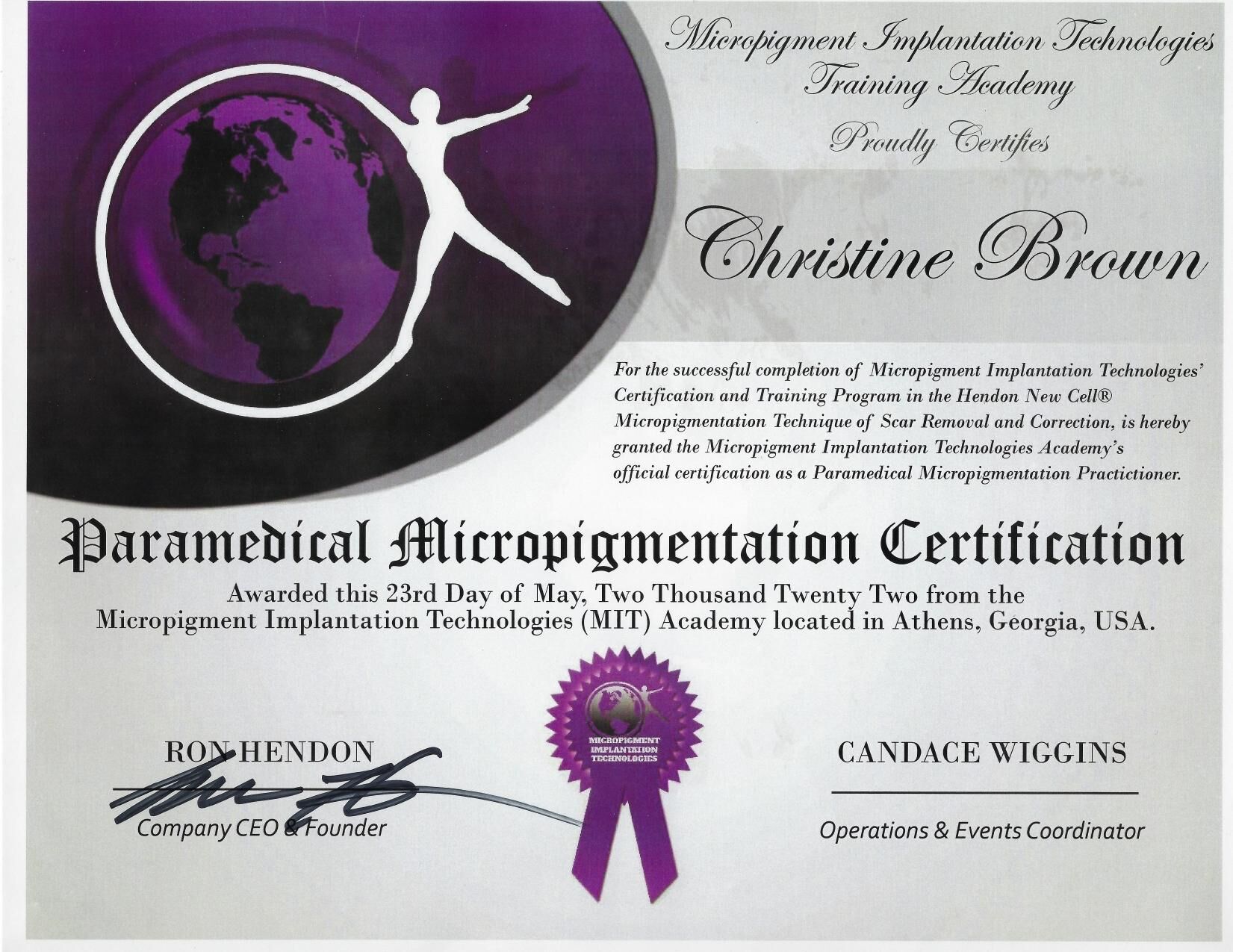 PARAMEDICAL TATTOOING IN NORTH CAROLINA PRICING
Christine does careful and detailed work. I'm very pleased with the care and time she has spent on my eyelashes and eyebrows.
Christine did an amazing job! she made me feel super comfortable and made sure my pain stayed at a minimum while having my eyebrows microbladed. She also followed up with me a few days after to make sure everything healed properly. she was very talented and proficient! I loved my experience and will definitely be going back for my touch-ups. Thank you to the best microblading raleigh artist: Christine Brown!
PARAMEDICAL MICROPIGMENTATION FAQS
How long does a paramedical tattoo last?
Although it is not the same as cosmetic tattooing, in which you may only visit your client every 1-3 years, it is similar to body tattooing, in which the tattoo is permanent but touch-ups can "refresh" the look.
How much does paramedical tattooing cost in Raleigh?
The cost of paramedical tattooing will depend on the type of treatment that needs to be done, as well as the size of the area needed to be treated. For a trained professional, you would be looking at anywhere between $150 to $400 per session.

What is the purpose of medical tattoo?
Medical tattooing is a type of cosmetic tattooing that is more advanced. It can improve the appearance of a wide range of discoloration-related disorders.
The purpose of medical tattooing is to use tattoo artistry to correct perceived abnormalities so that our patients' inner beauty can be more visible to the world.
FIND US AT
8800 Harvest Oaks Dr., Raleigh, North Carolina 27615, United States
ABOUT RALEIGH

Raleigh is North Carolina's capital city. North Carolina State University is one of the state's most well-known institutions. The Research Triangle is named for the cluster of technical and intellectual institutions that surround Raleigh, Chapel Hill, and Durham. The North Carolina State Capitol is a Greek Revival–style structure with a rotunda that houses a statue of George Washington costumed as a Roman commander.
FIND OUT HOW WE CAN HELP YOU LOOK YOUR BEST. CONTACT US TODAY!