Permanent makeup is becoming more popular by the day. There are reasons for the explosion in the beauty space for these types of procedures. Are you a busy boss babe that has busy mornings, where you have little time to apply makeup day in, and day out? Maybe you have some kind of medical reasoning where you would like to have a little more pigmentation on specific parts of your body. Maybe you have arthritis, or poor eyesight, which makes applying makeup like eyeliners, and other cosmetics difficult.
Regardless of your reasoning, this article will help explain more about what to expect, and if these types of cosmetic tattooing procedures are right for you.
What are the Types of Permanent Makeup
The most popular permanent makeup services we see are permanent eyebrows, permanent eyeliner, and permanent lips. The most in-demand type of treatment would be cosmetic eyebrows. This is perfect for those sparse brow babes. With most non-permanent makeup applications, you can experience smudging and other regular hassles. There are a few different options when it comes to types of permanent eyebrows. The most common type would be Microblading. These procedures can range from a couple of strokes of pigment to filling in gaps for missing eyebrow hair to replacing an entire brow.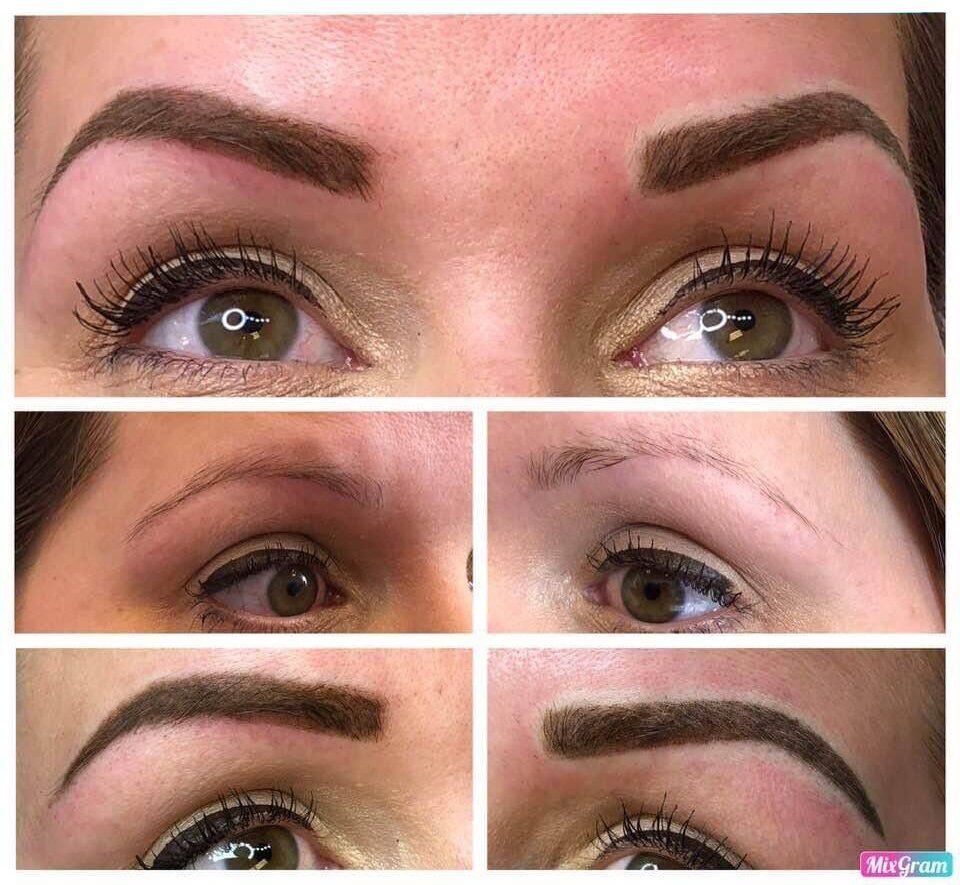 If you have little definition on your lips, or you simply want to add a more vibrant lip color, then you are likely a good candidate for lip blushing (or permanent lip liner). Permanent lip blushing provides an excellent base for lipstick, while also making them look more distinct.
Lastly, there is permanent eyeliner. Imagine not having to apply eyeliner daily? If you're an active person, you can stay perfect, even while working out! No more running, smudging, or annoyance having to apply it to your eyelids. Permanent makeup artists can apply it thicker if you're going for a more dramatic look, or a light application to give you that beautiful subtle look.
How does Permanent Makeup Work?
According to The Cleveland Clinc, permanent makeup, also called a cosmetic tattoo or micropigmentation, is done with the use of a pen containing iron oxide that tattoos the skin and to create the look of makeup. Permanent makeup is a general term that implies a number of different procedures that result in permanent markings on the face that look like a specific makeup product was applied.
How Painful is the Permanent Makeup Procedure?
This will always vary based on the individual's pain tolerance. You can imagine, based on the type of treatments we mentioned before, areas like the lips, or eyes will typically be more sensitive, compared to an area like the eyebrows. The good news is, there is help with discomfort, including various topical anesthetics that are specifically developed for our industry. Your permanent cosmetic expert should discuss this with you prior to the procedure to determine what might be right for you.
How do I Prepare for my Permanent Makeup Treatment?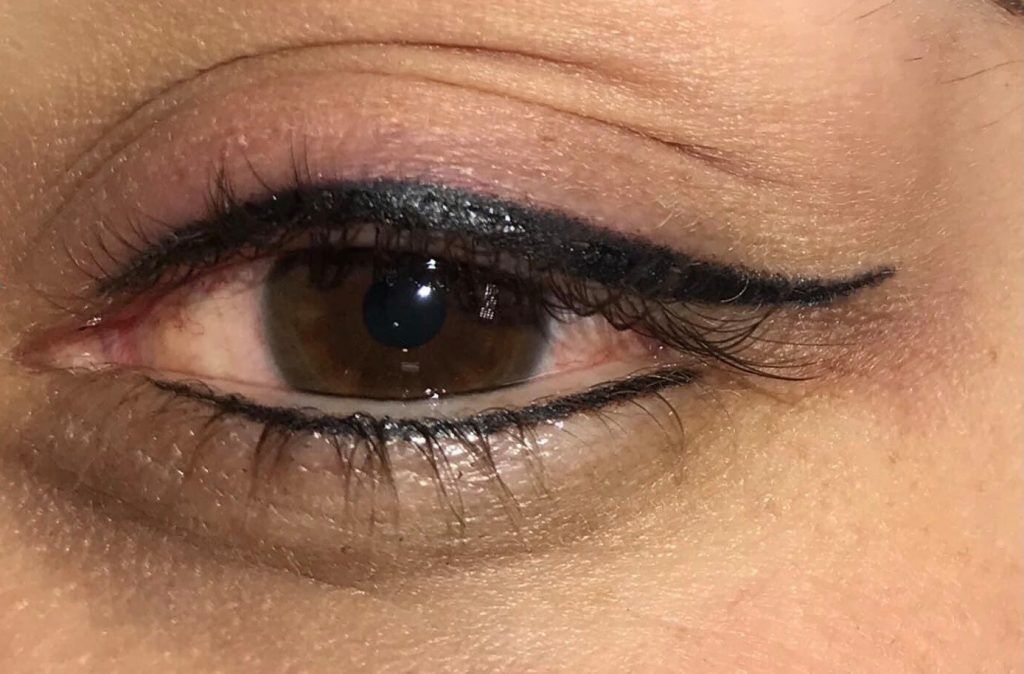 It is extremely important when looking to get permanent makeup done, that you do not have any major plans for 3-4 days after your procedure.
Eyeliner Must Do's
– Stop wearing contacts a day before Eyeliner procedures.
– Bring eyeglasses to your procedure instead.
– Do not wear any makeup to the procedure.
Lip Tattoos Must Do's
– Fever Blisters are a very common side effect of lip blush. We strongly recommend contacting your doctor, or dentist to prescribe an oral medication prior to your lip treatment.
– If you have a cold sore, you should not get this procedure done during a breakout.
During the Healing Process
– Gently exfoliate and moisturize the procedure area just like you would any tattoo. Some procedures like brows require them to remain dry for a few days. Your makeup artist should help you with the proper after-care advice upon completion. Healing time will vary from person to person, but listening to your artist will help ensure the most optimal period for healing.
Before the Procedure
– Avoid alcohol, vitamin E, Multi-Vitamins, Aspirin (any non-vital blood thinners) for 24 hours before all procedures.
– You're off Accutane one year prior to the treatment.
– Don't have a sunburn prior.
– Over 18 yrs old.
– Aren't pregnant.
RELATED: Can Permanent Makeup be Removed?
What are the Benefits From Permanent Makeup?
The benefits are vast for those who are in search of a solution like permanent makeup. Whether you are young or more mature, these services are perfect for those that desire a natural enhancement to their beauty. To those that can't use traditional cosmetics due to skin sensitivities, or allergies, these treatments could greatly benefit you.
SPCP says "Permanent Cosmetics also benefits the vision challenged who have difficulty applying their cosmetics; and others with dexterity related conditions such as arthritis, Parkinson's disease, multiple sclerosis, stroke survivors, and busy people who don't have time to spend applying and refreshing makeup throughout the day and evening."
How Much Does Permanent Makeup Cost?
This completely depends on the type of tattoo procedures you are looking to have done, as well as the experience of the artist in question. It is well-advised to avoid cheap work. Remember, while the procedures do fade over time, they're permanent makeup and don't just wash off. Always make sure the cosmetic tattooing professional is properly trained. Typically, you should expect to pay between $300-800 for most permanent makeup techniques.
How long does Permanent Makeup last?
According to Cosmopolitan, it will completely depend on the type of treatment you get, but typically, it will last you between one and three years. Remember, some procedures do require touch-ups, so this in combination with following the proper aftercare steps, will help you prolong your look. The reason it doesn't last forever, like a regular tattoo, is because permanent makeup doesn't reach the deeper layer of your skin it's more of a superficial tattoo.
The pigments are designed to slowly fade over time, so it's a personal preference when to come in for maintenance once the color starts to lose concentration. Some people fade a little, and they want more; others let it almost all fade out before they come back. At a maintenance appointment, the artist will add some color concentration to the existing work.
How do I find a Permanent Makeup Artist in Raleigh, North Carolina?
If you're searching for a permanent makeup artist in Raleigh, Be sure you know your skin type and have a consultation before scheduling any procedure. Ask for their credentials or certification. Check out their reviews, what can you tell from their social media? Is the clinic clean? Also consider after visiting, talking, and observing do you feel confident going forward.