Eyebrow services are constantly changing to keep up with the new trends and fashion. Traditional microblading and powder brows, also known as ombre brows, are two semi-permanent alternatives to eyebrow cosmetics. Microblading's popularity skyrocketed due to its hyper-realistic effect.
This amazing technique was chosen by tens of thousands of women all over the world looking to up their brow game. However, Microblading Services are not suitable for all. That's where ombre powder brows come in!
What is Eyebrow Microblading?
Microblading is a semi-permanent eyebrow styling technique that involves scraping and depositing pigment under the skin with small, fine-point needles. In contrast to microshading, the tools ensure that the final look is lighter.
Microblading is also known as "micro-stroking" or "feather touch" in some cases. Microblading is the shortest-lasting form of permanent eyebrow makeup, lasting 6-12 months on average.
The instrument used to perform the traditional microblading process is often a one-time-use disposable tool.
Microblading only requires a certificate, which should be obtain via an in-person course.
When investigating permanent makeup artists, it's critical to inquire about their qualifications.
RELATED: How Long Does Microblading Last?
Is Microblading a Tattoo?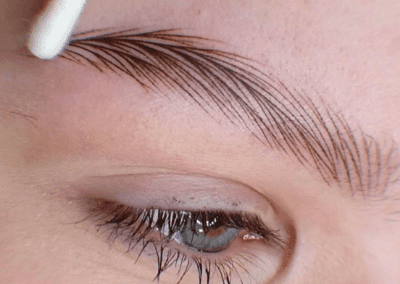 Since the dye is kept beneath the skin, a tattoo lasts a lifetime. The tattoo ink is injected into the skin's dermal epidermis layer. Microblading produces even finer, slender, thinner, hairlike strokes that aren't as heavily rooted as tattoos. The ink is placed in the upper dermis of the skin with microblading. Since it fades with time, microblading is considered a semi-permanent tattoo.
Microblading is close to getting a tattoo. Color molecules in microblading ink, on the other hand, are much less dense than in traditional tattooing ink. To put it another way, the dye particles used in the microblading technique can wear away with time or be touched up once a year to keep the lovely color and form.
This method is suitable for all. You and your artist will choose from a variety of colors to see which one is the best fit for you.
The powdered brow look is produced with a tattoo gun. It's called an ombre brow or a powder brow because it gives the brows a naturally misty appearance.
In contrast to traditional microblading, the brows are not only more textured, but they are also more developed. If you would like to learn more about the certifications I have at a cosmetic tattoo artist, please click here!
What are Ombre Powder Brows?
Ombre is a pattern in which shades or tones blend into one another at their most simplistic level.
Semi-permanent makeup includes ombre brows and powdered brows.
A single-needle dotting technique is used to achieve the powdered brow look. The powdered brow look is achieved using the micropigmentation technique. A tattoo like machine is used to inject thousands of tiny ink dots into the brow to produce a soft and glamorous powdered brow.
Microblading in raleigh is not recommended for people who have oily skin. Ombre brows are suitable for people of all skin colors.
Ombre Brows Post Care Treatment:
Your esthetician will apply an ointment after the operation is completed. For the first 5 days after the injection, apply this ointment with clean fingers or a cotton swab. After the injection, avoid rubbing your brows inappropriately because your hands can contain bacteria.
Using a cotton round or sterile bottled or purified water is the safest way to clean the brows after the treatment. Morning and night, softly cleanse the area with the cotton without scrubbing. If you scrub your brows after the treatment, expect any unfavourable improvements in the final results.
During the treatment, refrain from picking, peeling, rubbing, or scratching the brows. All of these acts have the potential to detract from the actual outcome.
Even, for the first two weeks after the surgery, don't use any makeup on your brows. The final effects of the procedure will be seen after 4-6 weeks from the day of operation.
What to Expect During the Ombre Powder Brow / Microblading Experience?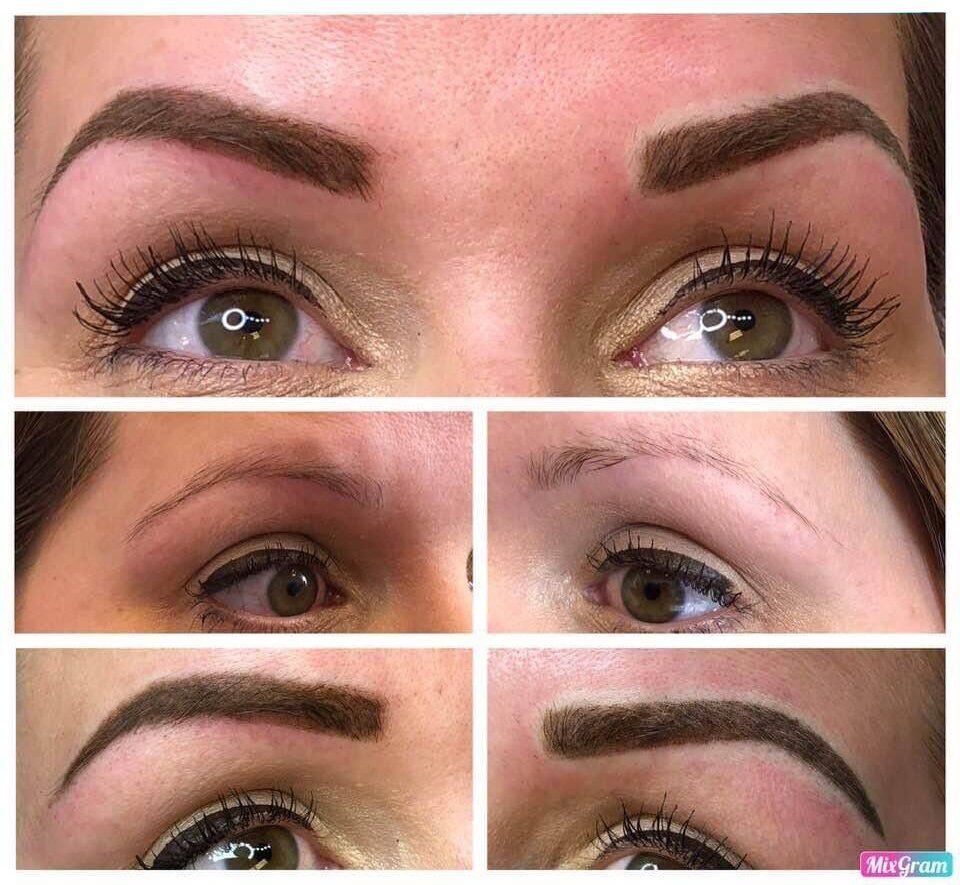 The artist begins the consulting session for you. She'll look at the skin tone and texture, as well as the form and width of your new brows. The artist will inquire about your daily routine, such as how often you use skin care ingredients or apply makeup. The artist will often inquire as to whether you want a bright and trendy look or something more modest and traditional.
The artist would then begin sketching the brows. Using an inked string, a ruler, and a wax pencil, very accurate measurements are made. The wax pencil acts as an outline and is waterproof. The outline will give you a general understanding of how the final product will appear.
The artist will ask you to approve the form after the outline and sketch are done. She'll then start applying a topical anesthetic cream to the brow region. It takes about twenty minutes for the topical anesthetic/numbing cream to fully numb the area. The skilled artist will begin the process until the outline is complete.
It could take anywhere from 45 minutes to an hour to complete this task. The brow specialists will strip the extra ink from the forehead to complete the fresh look. There may be a bleeding or redness. This will go down in 12 to 24 hours. The treatment is over. Within the next 4-6 weeks, the artist will arrange a follow-up consultation.
The artist may make any necessary changes during the follow-up visit. In most cases, the touch-up appointment is necessary since not all of the hair strokes can remain after the first appointment and some places may look lighter than others. This is Normal and predictable.
Microblading Health Risks & Considerations
Microblading should be avoided for those who have the following medical conditions.
– Pregnant
– Anyone undergoing chemotherapy or radiation
– Anyone who has had a chemical peel in the last two weeks
– Diabetics
– Anyone with serious medical conditions
– Heart patients or people using medication for a heart condition
– Anyone using blood thinners / Has high blood pressure
– Anyone who has had Botox in the last two weeks
– Anyone undergoing treatment for severe acne
– Allergic to benzocaine, epinephrine, lidocaine, prilocaine, or tetracaine
– Anyone with severe skin allergies
Since the microblading treatment, the eyebrows can regenerate visually in 7-10 days and internally in 6-8 weeks. During this time, avoid picking or scratching your scalp. This can result in scarring or patchy brows.
If the treatment is not performed in a safe, sterile setting, you risk contracting diseases such as HIV, eczema, skin infections, and hepatitis B or C. Be sure you do your homework and that your artist is qualified to work with bloodborne pathogens.
Ombre Powder Brows in Raleigh, NC
Are you excited to show off your new eyebrows? Yes, microblading and Ombre / powder brows in Raleigh are a little more invasive than regular makeup routines, but the results are beautiful and well worth the effort. Having beautiful brows every day has no price tag. For a consultation and to determine which brow look is right for you, contact Christine at Permanent Cosmetics by Christine Brown – permanent makeup studio – today.