There is no doubt that permanent makeup has gained widespread popularity over the years. With that, there are situations where people who receive cosmetic tattoos are unhappy with the end results. We see this a lot when clients decide to choose either an inexperienced permanent makeup artist or the cheapest option in the area. Just like a regular tattoo, permanent makeup does fade over time but to remove it completely, it involves some similar techniques and procedures. In this article, we will go over the possible options, as well as touch upon how it works for eyebrows, eyeliner, and lips.
What are the Ways of Permanent Makeup Removal?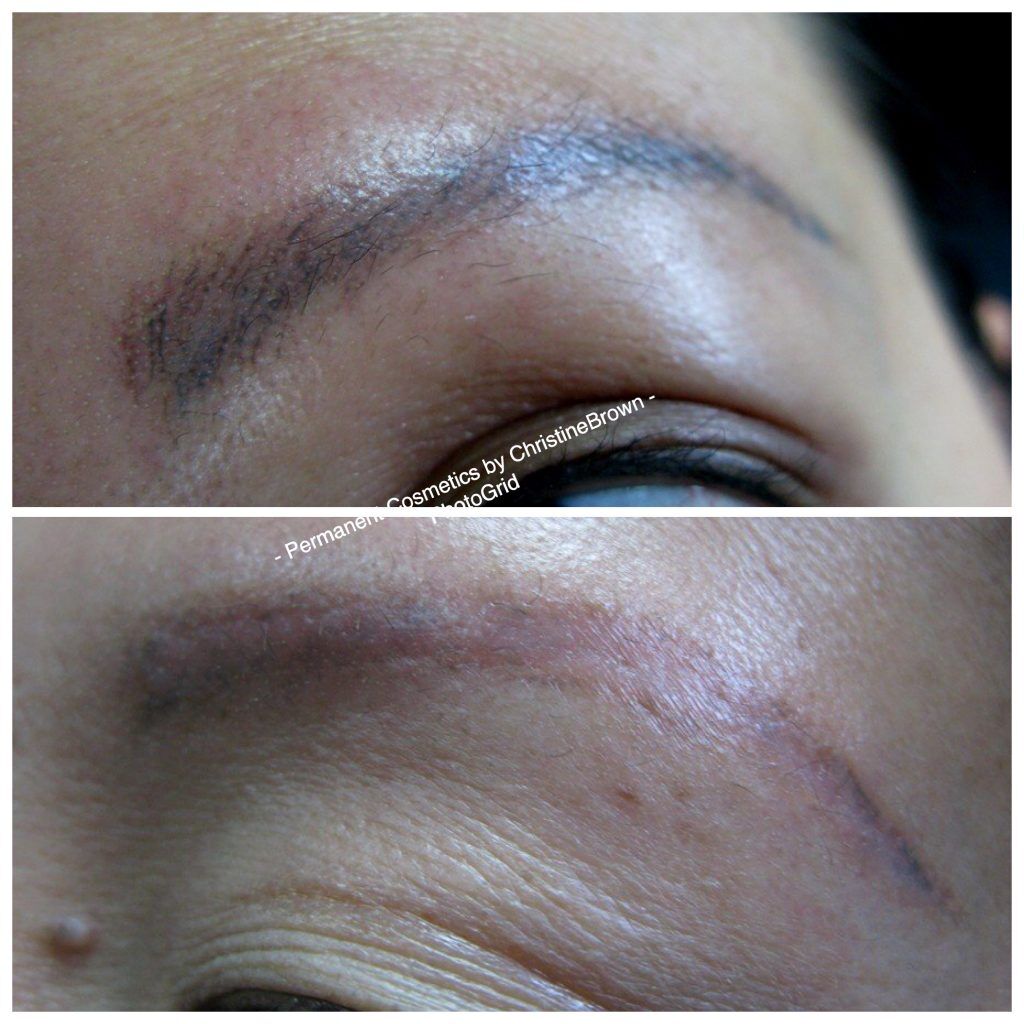 According to PMUhub, "There are several ways of permanent makeup removal, and each of them actually reduces or lightens the pigment molecules from the skin. All methods can be considered under different circumstances". The three main sources for permanent makeup removal are; Topical solutions, Laser removal, and the Saline technique.
Topical
The first option we will touch upon is the topical solution for permanent makeup removal. This can be a bit tricky though is it has not been shown to be that effective. Permanently says "there are no clinical studies that actually show results from the use of tattoo removal creams alone. Tattoo removal creams might fade or lighten a tattoo, but they will still remain visible. Most of these products don't even claim to remove tattoos entirely. Instead, they claim to help make tattoos less noticeable".
Laser Tattoo Removal
The laser option is an interesting take on the use of removal technologies. The removal procedure using the YAG (yttrium aluminum garnet) laser, is specifically used to help with pigmentation. The laser option uses a laser-like ray that heats up the coloring, then breaks it up into tiny particles. Since the particles are so small, they get absorbed by the cells in the body and then are removed via the lymphatic system.
Salt-Saline Technique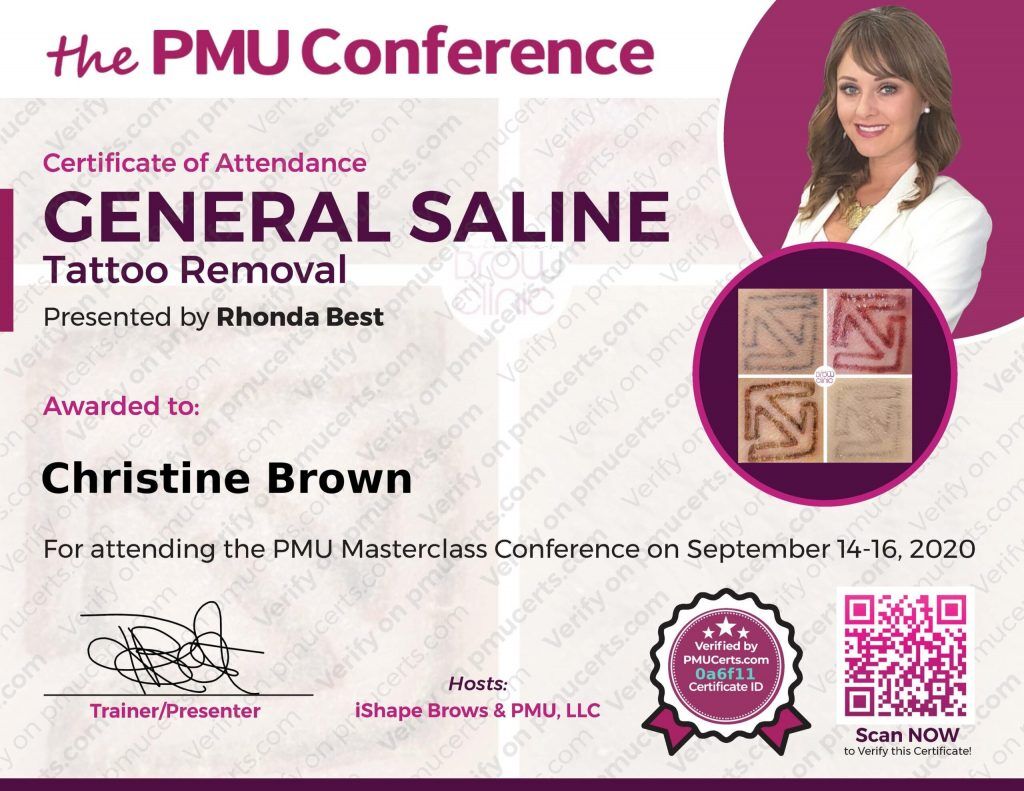 This is a procedure that's very popular with technicians who don't have access to lasers. The process resembles the process of initial tattooing, where a saline and salt solution is tattooed directly on top of any unwanted pigment or ink. This starts the process of the ink being drawn out from the skin.
At Permanent Cosmetics by Christine Brown, we prefer to use an all-natural removal solution. This is why we use A+ Ocean's products. Their product is specifically designed to release the pigment from the type of scaring caused by Microblading. At our clinic, an artist will tattoo a saline and salt solution or concentrated saltwater directly on top of any unwanted pigment or ink. These solutions act as bonding agents which draw the ink to the skin's surface. This starts the process of the ink being drawn up and out of the skin into a scab. Once the scab falls off, the pigment will be lighter or completely gone.
Are There Risks?
You want to ensure you have complete confidence in the practitioner since they could be working close to your eyes. This means you will want to work with a well-training, experienced permanent makeup artist to conduct the treatment. There is a real possibility that the treatment has the potential to cause damage to the eyes or discoloration from the pigments used. For the most part, though, this procedure is relatively safe, and wouldn't cause anymore potential issues than that of the original cosmetic tattoos in the first place.
Three Types of Permanent Makeup Correction
Microblading Removal & Correction
Microblading removal is typically the most common type of procedure performed. Typically, Microblading will begin to fade naturally by year one. If pigment was placed too deeply by a poorly trained artist, a correction could be necessary to right the wrong.
Permanent Eyeliner Removal & Correction
Whether it is both the top and bottom permanent eyeliner, or just one of the upper, or lower lid, a well-trained correction specialist can handle the job for you. Typically, a client will want to remove sections where they sense some unevenness or even drooping.
Permanent Lip Color Removal & Correction
To remove full color, or to lighten up the lip pigmentation, a permanent lip color removal procedure is typically used. Clients will sometimes only want to soften up the color, instead of the complete elimination of the color.
Another removal process is for lip liner. What we normally see when it comes to this, is the original artist might have placed the lip line too high, or misplace based on the natural lip line.
How Many Treatments Will I Need?
According to Custombeaute, every case is different and it depends on the quantity of ink that needs to be removed. This will obviously vary from person to person, and typically you will see visible results even after just one treatment, but normally it will take anywhere between 2-5 treatments to completely eliminate more invasive permanent makeup.
Permanent Makeup Tattoo Removal Near Raleigh, NC
Are you looking for permanent makeup tattoo removal in Raleigh, NC? At Permanent Cosmetics by Christine Brown, we specialize in providing the best in your color correction needs. Book an appointment today and let us help you correct any problems that are holding you back from feeling your best!
Our Latest Posts: